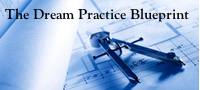 Thank you so much for all your feedback on the ten steps to The Dream Practice. I have compiled all the feedback researched all the great questions and have produced the final masterpiece. One of biggest concerns was that that it was only received one time per week and eventually it ended up in spam (after the 3rd or 4th article). So I have produced a new version in the form of an ebook!
The information is designed to give you all the information to open the practice of your dreams! I have left nothing out. This information has been put together with 34 successful practice starts, 78 subscriber feedbacks and lots of personal experience and research.
Get it today! Please take advantage of this complimentary information. Then give us more feedback so I can always keep it updated!
The Blueprint is your plan to the Dream Practice. It includes:
The vision / mission
The Chiropractic Algebra
Location, Location, Location
The Business Plan
Getting the Money
The Grand Opening Campaign and Marketing Plan
High Volume Low Stress
The Coach / Mentor
Pay Yourself First!
80 / 20 and the Dream Team
Thanks again for all the great feedback! Keep it coming and I will keep updating.
Please sign up below
Darren
Don't miss out on the Blueprint to your Dream Practice!
6 Trackbacks / Pingbacks for this entry