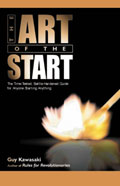 The Dream Practice Start
Guy Kawasaki is a great mentor of mine. I follow him on Twitter, read his blog and have devoured 8 books he has written. One of my favorite books is "The Art of the Start" and in the video below he points out that the most successful businesses are created around strong meaning rather than to just make money. Watch and listen to this video and make sure your Chiropractic business foundation comes form at least 1 or more of these three criteria. I truly believe that this is why there are so many Chiropractors who have larger than life practices… they are on a mission much greater than themselves.
Guy is also the creator behind www.alltop.com which is a site that aggregates all the top blogs on the web and organizes them based on category. This is the site I mentioned in my "Never Read a Newspaper Again" post.
Onward and Upward,
Dr. Darren White

Make Meaning in Your Company from woz on Vimeo.
4 Comments for this entry
1 Trackback or Pingback for this entry