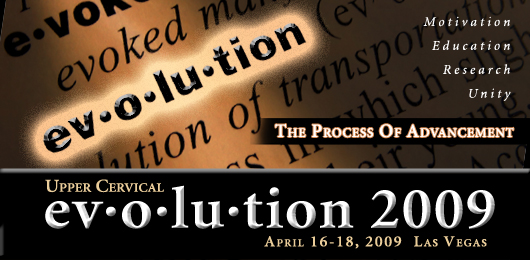 Upper Cervical Evolution 2009 – The Process of Advancement
April 16-18, Las Vegas
Green Valley Ranch Resort, Spa & Casino
With great anticipation, the third annual Upper Cervical Evolution is just around the corner and Upper Cervical Health Centers® cordially inviting you to experience this historical event.
As with previous Evolutions, the focus will be Upper Cervical Unity. The weekend will feature 18 guest speakers all of whom are leaders within the Upper Cervical Community, a Student SPIZ Night and a few surprises. CE credits will also be available on the main stage.
Register NOW and save $50.00 off the registration fee. After November 1st, the Student fee will increase to $195.00 and the Doctor fee will increase to $395.00.
Upper Cervical Health Centers will also provide Free Student Rooms for the first 100 students to register! This is putting 4 students per room. UCHC will group individuals based on school and the rooms will be available for three nights.
Last year's event in Nashville brought together over 235 doctors and students to pay tribute to the founder of Upper Cervical Chiropractic, Dr. B.J. Palmer. They are looking to double attendance this year!
Visit www.uppercervicalevolution.com for more information about guest speakers and agenda. You can also register, reserve rooms, purchase sponsorships, exhibit booths, program print ads, and event t-shirts. You won't want to miss this event so register today!
Onward and Upward,
Dr. Darren White
2 Comments for this entry