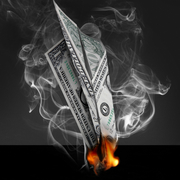 You are about to graduate, you have $120,000 in students loans, $7,000+ over several credit cards, car loan, money you owe mom, and the list may even go on!
To add to that stress you may even take on more debt to start a practice. Then what? How the hell do you get rid of this debt?
1. Do you pay off the highest interest rate first?
2. Do you pay the smallest debt first to get an easy win?
3. Do you pay a little on everything?
4. Do you consolidate?
Just after I bought my practice the weight of my debt felt like an 800 pound gorilla on my chest. Dr. Newman turned me on to a great tool that helped me burn though my debt at a record pace AND I didn't even have to pay attention to it. Then we created a written financial plan to start investing the payments I was applying to my debt.
Snowball your way out of debt!
This FREE program will allow you to enter up to 20 debts, with corresponding APR, and minimum payment information. Then it will actually create a written plan to kill your debt in record time! When compared to consolidating you debt this method works faster and will save you thousands of dollars.
Let others know of any great debt tools in the comments section below.
Onward and Upward,
Darren
5 Comments for this entry