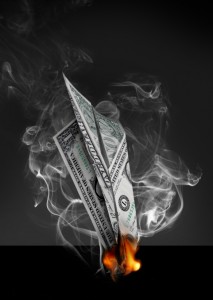 It is always exciting when an equipment lease comes to an end and you have some extra free cash available that you were used to paying.  NOT TODAY.
I was looking over my bank statements last week and noticed that an automatic lease payment that was supposed to be finished in April was still being deducted.  I immediately called the bank to verify that it was in fact my lease payment.  I then call Priority Leasing, who by the way is now Priority Capital to ask them to stop taking out my money and to return my over payment.  They explained to me that they had sold the lease to someone else, Marlin Leasing.  I called Marlin leasing and politely asked for them to stop taking my money.  She explained to me that it automatically renewed for another term and that I now had another full year of payments before I am allowed out.  In fact I only have a very small window to "end" my lease each year.  She told me I had to submit my request in writing 90 days before, but not more than 180 day before, the lease term end date.  Otherwise it will keep "renewing" forever. Huh?  When I was sold the lease I opted for the 1$ buyout at the end of 3 years.  Now because I didn't write some silly letter I get to pay an extra 8400 over an above paying off the equipment in full.
The Evergreen Clause
After having her fax over the contract I signed, I realized that in the very small print it did in fact state that it would renew if I did not notify them in writing 90 before but not more than 180 days before.  Fired up, I decided to do some research.  This is known as the Evergreen Clause.  It is a nasty clause put into agreements hoping you won't notice or remember until it is too late.  Worse then that, it is legal in most states!
The "Evergreen Clause", the Industry term for contract language that automatically renews a lease or finance obligation beyond the original lease term.  The contract language varies by lender (see some actual examples below) but the common thread is that the monthly payment obligations automatically renews for additional periods of time (often 12 months) unless specific notification is provided to the Lender.
This obligation is rarely emphasized to you when you sign the contract and likely you are unaware of this provision.  Because of this, many customers do not realize their contract has extended beyond its original term.  Most Business Owners are busy running their companies, not complying with the "fine print" in their contract.
Read Carefully
Below are some examples;
… you must notify us by certified mail between 90 and 180 days prior to the end of the Lease Term if you intend on returning the equipment.  If you do not notify us, the Lease will automatically extend for 12 months…
…The term will be extended automatically for successive 12 month terms unless you send us written notice you do not want it renewed at least 30 days before the end of any term…
…No more than 180 days and no less than 90 days prior to the end of the Term, Lessee shall give Lessor written notice of Lessee's intention… If Lessee fails to so notify Lessor or, having notified Lessor, Lessee fails to return the Equipment at the end of the Term… at Lessor's option automatically renew for another 6-month period under the same terms and conditions…
Action Steps
1. Go check any current leases to make sure that clause is not in there and if it is make sure you write the letter NOW and put it in a place you will remember to send it during the proper time frame. Then send it certified mail with signature.

2. NEVER sign a lease with that language it.  There are plenty of leases out there without this language.
Well, I hope my $8,400 lesson saves you some money and keeps your blood pressure in check.  Of course if anyone has any ideas how to get out of this let me know.  I sent it over to my attorney today, will keep you posted!
Onward….
8 Comments for this entry