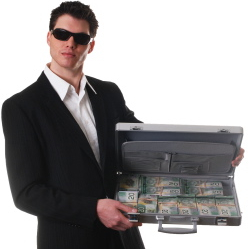 On Tuesday at my staff meeting I am posting a standing offer for $1000.00 to anyone who would like to quit! Sounds crazy but I think this is a win / win for both the employee and the employer. In my experience when someone quits they actually check out months ago. The employee is no longer enrolled in the bigger vision and is now imposing their schedule of scanning craigs list, IMing friends and perusing monster.com on the company's dime. During this time there is an immeasurable loss of productivity, things being brushed under the rug and more importantly a huge drain on team morale. On the employee side this is frustrating, depressing, scary and mostly an energy suck on their life! What if we threw them a little motivation to cut those months into days! They make a faster transition into their new life. The employer gets to mitigate their loss of production and morale. It's just like riping off a band aid.
Below is where my thots were inspired from. Please post your comments below
Darren…

Details here, courtesy of Bill Taylor, former Fast Company editor, who writes in Harvard Business Review about the hiring practices of Zappos, the legendary online shoe company. He says:
[Zappos] is a company that's bursting with personality, to the point where a huge number of its 1,600 employees are power users of Twitter so that their friends, colleagues, and customers know what they're up to at any moment in time. But here's what's really interesting. It's a hard job, answering phones and talking to customers for hours at a time. So when Zappos hires new employees, it provides a four-week training period that immerses them in the company's strategy, culture, and obsession with customers. People get paid their full salary during this period.
After a week or so in this immersive experience, though, it's time for what Zappos calls "The Offer." The fast-growing company, which works hard to recruit people to join, says to its newest employees: "If you quit today, we will pay you for the amount of time you've worked, plus we will offer you a $1,000 bonus." Zappos actually bribes its new employees to quit!
Why? Because if you're willing to take the company up on the offer, you obviously don't have the sense of commitment they are looking for. It's hard to describe the level of energy in the Zappos culture—which means, by definition, it's not for everybody. Zappos wants to learn if there's a bad fit between what makes the organization tick and what makes individual employees tick—and it's willing to pay to learn sooner rather than later. (About ten percent of new call-center employees take the money and run.)
Indeed, CEO Tony Hsieh and his colleagues keep raising the size of the quit-now bonus. It started at $100, went to $500, and may well go higher than $1,000 as the company gets bigger (and it becomes even more difficult to maintain the all-important culture and obsession with customers.)
47 Comments for this entry