One of the attractions for me to attend Law School was because they often couple the degree with an MBA. Not only does it serve the need to educate our Lawyers in the business world so they can gain a better perspective, but it also serves as an excellent foundation for the business skills necessary in their own practice of law. Often times I feel I should get an MBA so I can make a bigger difference in the larger picture of the Chiropractic profession.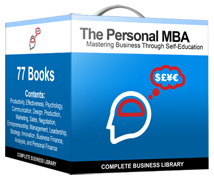 Thanks to a website called Personal MBA, we now can get the same education they are receiving at B-School without all the classroom hours, money and time loss. Check out www.personalmba.com and read the Personal MBA Manifesto, then mosey on over to the highly impressive Personal MBA reading list. Set a goal to read the list before (or soon after) you graduate and BAM! you are armed with the business skills necessary to ensure super success in Chiropractic.
One of the strongest reasons to attend a traditional Business School is the network of people it can put you in front of to ensure a great job upon graduation. The Professors, guest lecturers, recruiters and even the students can certainly get you a leg up in your career start. But for us, we don't need to leverage these relationships, we just need the skills!
Save your money, leverage your time in school and graduate with your Personal MBA. Then share your insights in this Chiropractic Blog.
Onward and Upward,
Dr. Darren White
3 Comments for this entry